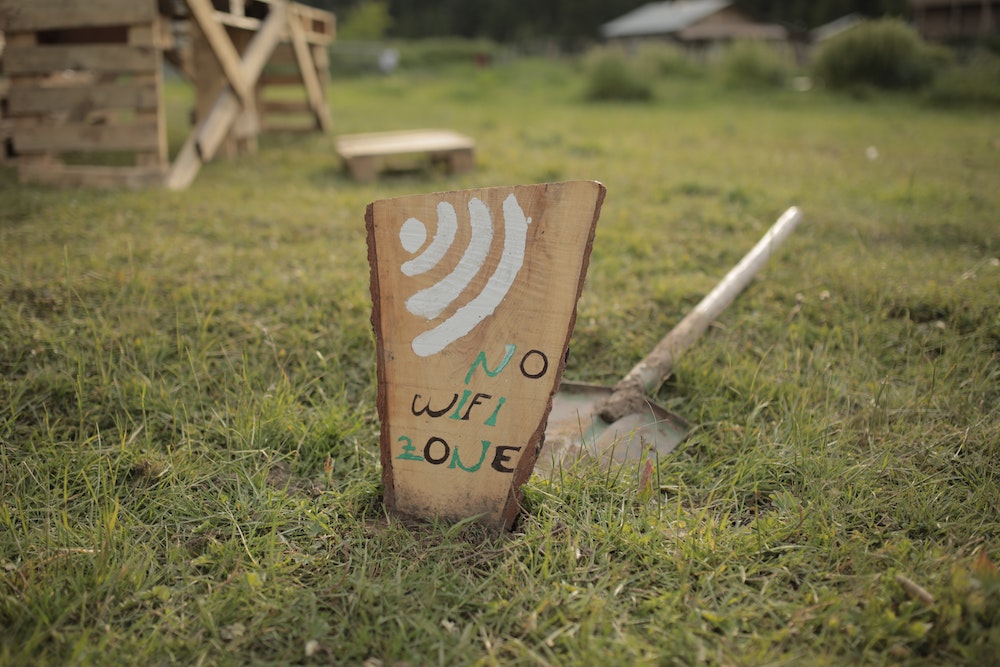 Designing for High and Low Bandwidth Contexts
---
---
As of January 2021, there were 4.66 billion internet users, representing 59.5% of the global population. Internet access continues to spread rapidly, with estimates of an annual growth rate of more than 7% [1]. Although access has been expanding rapidly and that trend seems to be continuing, there are still great disparities from region to region in terms of how reliable that access to the internet is. You and your on-campus students near the big city may have consistent, high speed internet. But students who are joining your online class remotely from more rural areas may be dealing with frequent disruptions to their internet service and lower speed connections to begin with. How do you design a course that meets the needs of both groups of learners?
Zoom / Synchronous Meetings
Synchronous Zoom sessions are not usually a problem for students who have reliable high speed internet. But they may be very difficult for students in other contexts. Before scheduling Zoom meetings for your online course, here are a few design questions to think about.
How many of your students will have difficulty accessing the Zoom meeting from their homes?
A significant portion of the rapid internet growth has been driven by mobile internet users. In some areas mobile data is very cheap, but in others it is very expensive. How much does mobile data cost in the areas where your students live? Is it feasible to ask them to join a Zoom call from their mobile device as a backup plan if their home internet service is disrupted? How much would it cost if they did so?
How much interaction and discussion is planned for the Zoom session? How much time for transmission of content (lecture?)
Is it possible to record the Zoom call so that students who might have trouble accessing it can watch it later? Although this option would allow them to hear the content, it would not allow them to participate. Would that be detrimental to their learning? What impact would it have on the sense of community among the learners?
What types of lower bandwidth activities could be used to cultivate a sense of community for learners who find themselves frequently needing to view recorded Zoom meetings?
Video
Video is not usually a problem for learners who have reliable high speed internet. It may be problematic for students who have a very low bandwidth connection. However, for students who have high speed internet with periodic disruptions (rolling brownouts, etc.), video might or might not be a problem. A video that students can watch at a time of their choosing would be easier to navigate with a spotty internet connection than joining a Zoom call at a fixed time. Generally speaking, the shorter the video the better. Ideally, videos should be no longer than 6 minutes [2].
How many of your students will have difficulty viewing videos from their home internet connections?
How expensive is mobile data? Is it feasible for them to view videos from their mobile devices? How much would it cost if they did?
How long are the videos in your course? If you have any videos that are longer than 15 minutes, could you break them up into smaller segments?
Click here for more ideas on using video, including ideas for how to make videos interactive.
Images
Adding images to your Moodle course (homepage, Pages, Books, Lessons) is a fantastic way to increase learner engagement with the course material. However, large images cause pages to load slowly, which can be very frustrating for learners with low bandwidth. Even learners with higher speed internet don't like to wait for pages to load. So the best practice when using images is to reduce the size of the image to the smallest size necessary. Tools like Webresizer are a great help with this process. If you find a great photo on Unsplash that is 6,000 x 4,000 pixels and you plan to display it at 400 x 267 pixels in your course, you can make it 99% smaller on Webresizer, reducing it from 5,953 KB to 36 KB. That's a significant savings in how long it will take the page to load and would be a great benefit to students in lower bandwidth contexts. Note that loading the 6,000 x 4,000 image into Moodle and adjusting the display size down to 400 x 267 does not reduce the file size of the image, nor will it reduce the page load time. You need to resize the image using a tool like Webresizer first, and then load the optimized image into Moodle in order to experience the benefits of using the reduced size image.
Written Content
There are many different formats for sharing written content with students. Moodle Pages, Books, and Lessons are all ways to present written content in Moodle. Accessing pages with text generally requires less bandwidth than streaming video, so these options have the potential to reach a wider range of learners. You can also upload files for your students to download and read offline. PDFs are ideal for sharing content, though other types of files like Word Docs and PowerPoint files can also be shared when they are better suited to your pedagogical purpose. For students with extremely limited internet access, downloading files to read later may be one of the better options for transmitting content. Just keep in mind that in situations like this, file size matters a great deal. If you have a large file, try splitting it up into several smaller files to make downloading easier. Also keep in mind the same considerations with images as above, and try to compress image and file sizes as much as possible.
Discusion forums
Interactions between learners are an important part of the learning process. As teachers, we do all we can to encourage a sense of community among our students. As designers, we can design and plan courses in a way that will create opportunities for that community to develop. As we think about ways to develop community that would reach learners in lower bandwidth contexts, discussion forums are a powerful tool at our disposal. Forums are asynchronous, which makes them ideal activities for learners who deal with interrupted or lower speed internet connections. They can post and reply to others whenever they have the opportunity to do so. The conversation in a forum might take place over days instead of an hour or two in a Zoom call, but this can actually be a great asset that leads to deeper learning. Students have more time to reflect on the material and think about their responses before posting. If we as course designers want to take advantage of the benefits of discussion forums, then we need to learn how to write good discussion questions. Here are a few thoughts to consider as we reflect on our forum questions.
Will this question lead to discussion? Yes/no questions or questions that can be answered with a single word or phrase don't generally lead to discussion. But a question that asks students to take a position (yes or no) and support it with evidence could lead to discussion as students engage with the evidence adduced by others.
Do the forum instructions clearly explain the type of response students should make to one another? Short responses like, "I agree with you," do not advance the discussion. If you want to see more substantive replies, you may need to explain that in the directions.
How long should the initial post be? How long should the replies be? What is the deadline for the initial post? What is the deadline for the replies to other students? Make sure that your forum instructions provide clarity to students about the expectations for the discussion.
Click here for more ideas about designing good discussion questions.
---
---
Communities of Practice
Backward Design in 7 Steps